A lot of people who would like to improve their homes by themselves often have a hard time doing some tasks because they do not have all the right tools and materials. For people who would like to drill through their holes but they are not sure what is underneath the wall, they would need scanners to be sure. Knocking on walls just won't do anymore especially for those who do not know a lot of details about the sounds that wall should make to begin with. Searching for the right scanners can be complicated because there are a lot to choose from. If you are searching digital scanners, you will probably come across Bosch GMS120 and Zircon i520. Out of the two, which one do you think will be the best one for you?
Bosch GMS120 Digital Multi Scanner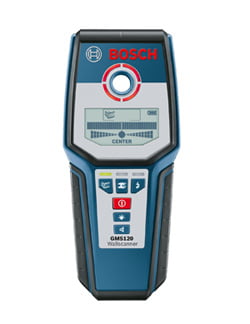 If you are not sure what the Bosch GMS120 scanner does, what it does is it makes sure that it can locate wood studs, metal studs, live wires, tubing that is filled with water and so on and so forth. It will let you know when you are using it if you are going to hit something if you should try to drill through a wall. At the same time, if you are searching for something, it will help make your search so much easier.
Advantages of the Bosch GMS120 Digital Multi Scanner
It can find live wires very easily. It can be hard to deal with live wires unprepared because it might cause accidents. With the use of Bosch GMS120, it can detect that the live wires are present in the area and will help people know what they should do afterwards.
Finding studs was easy for the Bosch GMS120. There are a lot of multi scanners that can detect live wires, tubing and all that but the studs are usually not detected. Since you are probably going to use the scanner to detect metal and wood studs, it might be best to use this product.
This product is also very easy to use. You simply need to put it over the wall so that it can scan the area and it will already tell you if there is anything that is present behind the wall.
Disadvantage of the Bosch GMS120 Digital Multi Scanner
While it is known to be one of the most reliable multi scanners right now, the main problem I have had with this scanner is the display. I found it hard to look at the display from when the backlight is turned on which is a disappointment because most of the time, I would need the backlight to be turned on.
Zircon i520 Multi Scanner
While both the Bosch GMS120 and the Zircon i520 both can detect different items that may be behind the wall, the Zircon i520 might be the better choice if the state of the wall is not in its usual state. Regardless of the condition of the wall, the Zircon i520 can still detect studs, live wires and the like.
The Bosch GMS120 has a wall marker which makes it easy for people to know where they have started to search. The Zircon i520 does not. It might be a big deal if you often forget where you have just searched but if this is not important to you, and then you might want to try either of the two.
The Zircon i520 comes with an instructional DVD which will make it easy for people to figure out how the scanner works. The Bosch GMS120 on the other hand comes with a multi lingual instruction manual which makes it easy for non English speakers to understand what should be done to make the multi scanner work.
Through the details that are mentioned above, it will be easier for you to know which one you should choose out of the two. They both have advantages and disadvantages that may be a big deal or not to you.