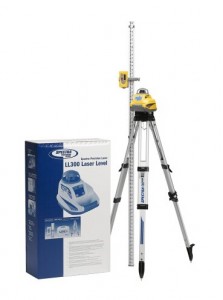 Are you a mid-size contractor looking for a leveling system that does it all? Then the Spectra Precision LL300 Laser Level is the laser for you! This is an automatic self-leveling rotary laser designed for the mid-sized contractor with the following capabilities: dirt moving, concrete, excavation and other jobs with maximum accuracy. Typical applications include checking and setting elevations for concrete forms and pads, excavations, footing and foundations on small and medium sized commercial construction projects like drug stores, strip centers and mini-marts. The laser has an expansive range 1300 foot working diameter and an accuracy of 3/32 inch at 100 feet. Unlike its competitor, the LL300 laser transmitter is built to withstand a drop of up to 3 feet onto concrete or up to 5 feet when pushed over on a tripod. This versatile tool is also water resistant and easy to use. The laser level comes complete with a patented HL450 Laserometer receiver that provides an easily readable digital elevation readout for periodic elevation checks, which increases productivity and eliminates readout errors and mathematical calculation errors. All the parts/accessories of the LL300-1: laser transmitter, HL450 receiver with clamp, tripod and 15-foot 8ths grade rod, come with and fit into one carrying case.
Background Information
The Spectra precision laser offers self-leveling for speed and accuracy and is able to withstand 3 foot drops and 5 foot tripod tip-overs. The lasers also weatherproof and dust proof and comes with a tripod kit and 10-Inch Grade Rod (inches). The laser also comes with an optional CR600 receiver and is built to withstand rough working conditions and harsh climates. The laser has a built-in tripod mount with a choice of horizontal or vertical mounting. This tool is extremely precise and easy to use, so much so that it sets itself up instantly when turned on. With a self-leveling range of five feet (at 100 feet) in either direction, laser accuracy is always within 3/32 inch per 100 feet. The HI (height of instrument) alert function monitors the laser and in case of any kind of disturbance, the laser notifies the user by turning off and the HI light begins blinking on the control panel. The Laser LL300 can help workers get jobs done in the fastest and most precise way possible and is designed to give maximum performance in even the toughest conditions both of a weather and work nature.
Specifications:
Accuracy:3/32 in. @ 100 ft.
Battery Life:90 Hours Alkaline, 45 Hours Rechargeable Ni-CD
Battery Status LED: Flashing Red LED
Compensation Method: Electronic Self-Leveling
Drop Height on Concrete:3 ft.
External Remote Control Operating Range: Up to 164 ft.
Laser Diode:635nm – 670nm Visible
Machine Control Compatible:Yes
Operating Temperature:-4 Degrees F to 122 Degrees F
Out-of-Level Warning:Rotor Stops, Red Out-of-Level LED Flashes
Protective Rotor Cage: Yes
Range:1,300 ft. with HL450 Receiver
Self-leveling Range:5 Degrees
Single Axis Manual Slop Mode:Yes (with Self-Leveling Mode on the Second Axis), with Optional RC601 Remote Control
Storage Temperature:-4 Degrees F to 158 Degrees F
Main features of the Spectra Precision Laser LL300-2 Automatic Self-leveling Laser Level:
Automatic electronic self-leveling to increase productivity and provide fast setup and minimal training
All-in-one packaging in an easy to store, easy to transport case that fits in even the smallest spaces
Provides a long range of up to 1300 ft.
Strong design and drop performance reduce downtime and repairs
High accuracy for critical jobs including concrete work
Alkaline batteries provide long 90 hour run time for reduced operating costs
Receiver provides easy-to-read digital readout of elevation which shows exactly how much you are off grade, reducing math errors during grade checks
HL450 Laserometer easily converts units of measure including 10ths, 8ths and fractional inches
HL450 has a large 4 in. receiver reception height that acquires the beam quickly for fast readings
LL300 has a 5 year warranty on the laser that ensures reliability and low cost operation
Great solution for laser tools needs
 Features:
Spectra Precision Laser LL300 Automatic Self-leveling Level w/HR300 Receiver, Alkaline Batteries
Meets IP54 Water and Dust Resistant standards
635-670 nm Laser Source, Class 2
Laser Accuracy of + or – 3/32 in. @ 100 ft. 1,000 ft. (diameter) range
Laser stops rotating if the elevation changes to avoid erroneous readings
Fully automatic electronic Self-leveling( with HI Alert) for fast & accurate setups
Speedy setups, fewer internal parts, and automatic self-leveling allow for increased productivity
Holds performance productivity even in any and all rugged job site and climate conditions
Robust design reduces work interruptions due to drops and tripod knock-overs
Minimizes energy costs and increases reliability by giving the operator a choice between rechargeable or alkaline batteries
  Allows for more flexibility by providing a slope option via remote control
Comes with two choices, HR350 or CR600 receivers so the operator can choose the best option to suit the job being worked on
Applications:
Checking/setting elevations, concrete forms, footings, and foundations for small- and medium-sized jobs
Basic slope work such as driveways and ramps
Excavations, digging footings and septic tanks
Accessories Included:
LL300 Laser Level
HL450 Receiver
Rod Clamp
GR131 10′ Rod (Inches) (different graduations are available upon request)
2161 Tripod
Alkaline Batteries
Carrying Case
User Manual
Manufacturer's Warranty
Cons (Some Things You Might Not Like):
Stick is in metric units and not inches which can create a problem for users in countries who don't use the metric system
Weight – The tool is a bit heavy when not mounted
What Sets the Spectra Precision Laser LL300-2 Automatic Self-leveling Laser Level Apart From the Crowd:
The Spectra Precision® Laser LL300 has a robust "hard hat" rotor protection design that provides standout drop and knock-over protection and protection in all climates such as inclement weather. Because the laser is built to endure even the severest of drops, from 3 ft (1 m) directly onto hard surfaces or up to 5 ft (1.5 m) when knocked over off of a tripod, this means there is less risk and  potential costs due to possible damages from accidental dropping and less maintenance costs over time during the duration of product life.
The LL300's fully automatic's ability to self-level provides quick and precise setup. There is never any downtime caused by power loss thanks to the laser's rechargeable Ni-Cad battery unit or alkaline batteries that keep the unit operational in the event of a power loss. Grade matching for basic slope work is allowed for, thanks to the single cross-axis manual slope mode with cross-axis self-leveling, all the while maintaining accurate and precise work in the cross-slope.
The robust, easily handle able Spectra Precision® Laser HR350 receiver can be used either as a handheld or rod-mounted unit for basic to mid-grade leveling and alignment jobs. The HR350 Receiver features a durable composite unit that is both incredibly light and extremely durable and capable of sustaining a drop of up to 5 feet (1.5 meters) onto very hard surfaces, making it very easy to work with and use. Beam elevation is displayed on both the front or the back of the unit so readings are very easy to see and determine even in the poorest of working conditions.
Final Verdict
A very fast and efficient laser tool that gets the job done efficiently and accurately. While it is a superior tool in its class and the majority of users are satisfied with its performance, the biggest complaint seems to be that the measuring stick is metric. In particular, in the United States where inches and not metric are used, customers were disappointed by the lack of the appropriate unit of measure and wanted to know why Spectra would include a metric stick for measurement with a laser that is to be sold in the United States. One American user joked that the metric stick was completely useless to him and that it didn't even make a good fishing pole. However, the general consensus is that this is a fantastic laser and that the only problem is that it should be offered with an inch/tenths stick instead of a metric stick. American users feel that the tool should offer an option in which Spectra buys back the metric pole and replaces it with a useful inch/tenths stick. As it is, there are no substitutions and the buyer would have to pay out of pocket and make an additional purchase for an inches pole. Bottom line: If you're looking for a precise, efficient, professional precision laser, this is the right tool for you!