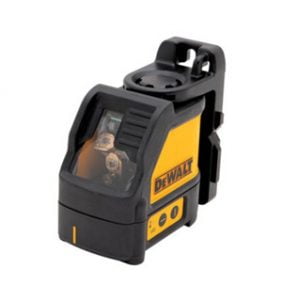 Are you one of the many individuals that likes to undertake tough do it yourself projects on your home or business independently? It can be a rewarding feeling fixing your home or business or building from scratch. With the help of the Dewalt DW088K Cross Line Laser, you can turn any complex project into a piece of art with ease.
This cross line laser is perfect for new home owners and those that are rookies at working on home projects. This self-leveler has an independent cross-line mode that creates bright horizontal and vertical lines of approximately 1/8 accuracy of thirty feet. The laser line will extend as far as fifty feet so that you can work on one room independently.
How The DEWALT DW088K Cross Line Laser Stacks Up
This specific rotary laser level will level within four degrees, which compares with other similar brands and models that offer the same service. The Dewalt DW088K Cross Line Laser weights exactly 3.2 pounds and measures approximately 9.2 x 4.5 x 9.5 inches. This product can be used either indoors or outdoors and can be attached to many different surfaces to accommodate your needs during the project.
There are two lasers produced by this model that help you with tough leveling and layout designs for any room. The line laser levels are helpful in creating a view of what you are trying to level which will create the perfect professional appearance of the room being worked on. In addition, the lasers offer a one hundred foot visibility range so you can view your progress from a distance.
DEWALT DW088K Cross Line Laser's Power and Accuracy
It is not hard to power this product as it just requires three AA batteries for use. In addition, there is a light sensor that shows the battery life so that you know when you need new batteries. It is easy to mount this product due to its magnetic pivoting base with a 1/4 inch thread.
This product can be mounted on walls or other materials so that you can go solo on any home improvement project. The angled window allows you to create any angle desired with relative ease. The line will span the whole room and back down to the base so you can ensure accurate placement without having to reset it.
Reliability of the Dewalt DW088K Cross Line Laser
The Dewalt DW088K Cross Line Laser can endure any environment as it is resistant to water and debris. It is covered in rubber so that if it accidentally falls to the floor it will not break upon impact. The manufacturer of the Dewalt DW088K Cross Line Laser offers a three year warranty just in case something out of the ordinary occurs and breaks your product.
There have been no customer complaints about this project as it is highly esteemed among the many do it yourself workers. This product is given a 4.9 star rating in most marketplaces so you can be assured that you're buying a quality product that will produce accurate results every time. In essence, this is the best laser level that one can buy for its price.